BASE, BASE STRESS, FINISH AND MNR
EVOLUTION 5 NEO
EVOLUTION 5 NEO is a fully automatic machine for base, finish, base stress inspection and mould number reading. EVOLUTION 5 NEO is totally modular and can be equipped with between one and five HD cameras to fit your inspection needs.
A new mechanical design provides better access to all inspection stations and saves on setting time. The latest generation of LED light sources ensures lighting from several angles to obtain a better image for inspection.
Equipped with a 21,5'' deported touch screen with a user-friendly interface, EVOLUTION 5 NEO offers quick and easy job changes and inspection of round and non-round containers.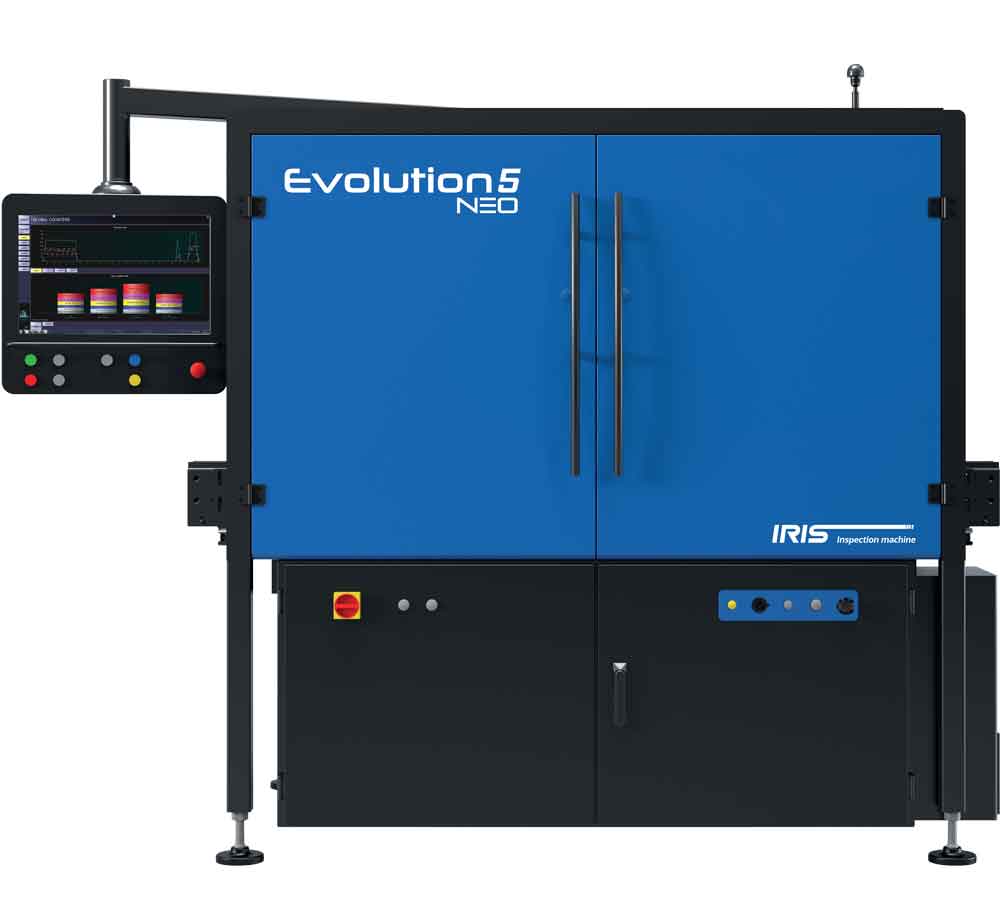 Totally modular
Evolution 5 NEO is a totally modular machine. You can equipped it with up to 6 inspection modules to fit your needs.

Finish inspection
Up to 3 stations to fit your needs. All finish types, including wide mouth finish
Line over finish, Open / closed blisters, Overpressed, Unfilled finish, Scaly, Sugary top, Split finish, Chipped sealing, Wire edge, Overpressed, Top Hat ...

Base inspection
Blisters, birdswings, tears, stones, inclusions, stuck plungers, dark bottom defects, loose particles...

Base Stress
Stones with stress, Inclusions, Defects that affect ability to contain pressure, Defects that affect ability to withstand impacts

Mould number reader
Dots in the base, Dots in the heel and seen by top camera, Alphanumeric number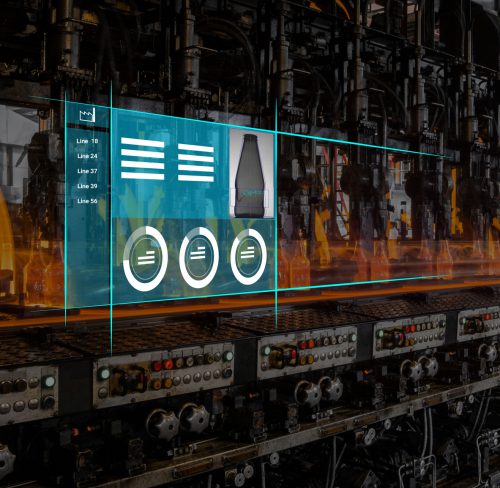 Data-driven inspection
Inspection data created by the Evolution NEO is available not only on the machine itself but remotely for plant managers to monitor performance and initiate changes where necessary. In addition, defect images are available to hot end personnel, with the ability to share critical defect characteristics and defect images in real-time, alerting IS machine operators to instances of critical defect detection.
A series of web-based trend analysis tools can be accessed to provide graphical views of defects in real-time, to assist glassmakers to understand the causes of defects, to simplify the adjustment of settings and to reduce false rejection rates.
Optional Features

MNR association with sidewall defects
MNR association with sidewall defects
EVOLUTION 5 NEO can communicate mould number with other intelligent machines or information system in real-time.

Wide Angle Vision
The wide angle vision allows the total inspection of the base for certain articles (cosmetic flacons with small bores, flasks or long neck articles), where a standard lens can not.

Black Glass
A dedicated light adjustment working in combination with a specific software algorithms allows dark glass inspection.

XL Container
EVOLUTION 5 NEO can inspect articles up to 600mm tall. An XL casing with adapted optical design is available on request.
Want to know more about Evolution 5 NEO ?