Iris Inspection machines'pioneering use of AI technology is bringing lower costs and higher satisfaction to glass makers around the world.
Jean-Luc Logel, Managing director of IRIS Inspection Machines explains: " At Iris, we know the future of AI enabled glassmaking is already here. AI is already an operational reality in everything we do. We pioneered the technology in our EVOLUTION NEO range which launched in 2018. We are now leaders in this technology with 10 operational lines in glass plants across the world. At its heart, this technology increases repeatability and inspection accuracy, while offering a detailed defect classification into more than 30 defect categories. "
Artificial Intelligence allows a simple set-up for a fast job change with limited fine-tuning time. Mainstream technologies rely heavily on the knowledge of cold end operators to identify what is a defect and what is not. EVOLUTION NEO AI, with embedded Artificial Intelligence, is able to detect and recognize a defect, while the operator decides solely on its size. Vitally, AI also provides accurate information about the defect itself, its origin and criticality level. Yet, AI does not downgrade the role of the operator. On the contrary, it frees them to do what only the human eye and hand can do. It also improves their working conditions, something that is vital as glass makers compete for labour with other advanced engineering sectors.
All glassmakers know that no production run ever replicates the last exactly. That means inspection parameters must also differ each time. EVOLUTION NEO AI offers a multitude of different configurations which learn and evolve to match each job change. Very similar defects often have different root causes and, most importantly, may have different levels of criticality for each customer. Inspection technology which differentiates automatically between inclusions, grease spots, surface blisters and hard blisters not only gives valuable information for the production experts but also ensures the rejection of those defects deemed critical. The goal is to improve production efficiency and, a hugely topical subject for all glassmakers, reductions in energy consumption. From an operational perspective, pack to melt is the key to efficiency and is based on three factors – repeatability, reliability and accuracy. AI from IRIS does not simply reject defective bottles, it helps anticipate and prevent future errors, boosting your Pack to Melt ratio.
A complete range powered with AI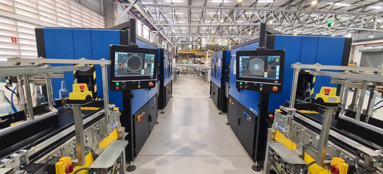 Evolution 12 and 5 are powered with Artifical Intelligence
The Iris range of AI enabled inspection machines consists of the EVOLUTION 12 NEO for sidewall and EVOLUTION 5 NEO for finish and base. Thanks to AI, both are easy-to-deploy for an immediate efficiency, even for an unexperienced operator. Training is a key part of the Iris installation and service package. EVOLUTION 5 NEO AI is a fully automatic machine for base, finish, base stress inspection and mould number reading. Operating with embedded artificial intelligence, it offers an accurate defect classification. It also has other advances. If machines use standard optics, base inspection is restricted with some items, such as those with longnecks, flasks or cosmetic flacons. Iris has developed a dedicated wide-angle lens which allows users to inspect the complete base despite the large difference between finish and base diameters. Furthermore, each inspection module is equipped with motorised high-definition cameras with automatic repositioning to secure repeatability and independence from human error. Without any mechanical and optical adjustments, all parameters are set through the machine interface. The latest generation of LED light sources ensures lighting from several angles to obtain a better image for inspection. EVOLUTION 12 NEO AI performs a similar job for sidewall, stress and geometry inspection. It has a unique optical design to detect standard and low contrast defects through 360 degrees with all shapes and colours of glassware. It can detect and inspect up to six different articles simultaneously in a multi-gob production process. These machines are augmented by a revolutionary new tool – the IRIS iBOT – which can monitor every inspection machine on each production line, around the clock. It uses this data to improve their settings and optimize the fine-tuning, just like an expert operator would.
iBOT can also predict defects and alert the hot end to avoid producing future defects which may be section, mould or machine related. Engineers can view all the data remotely via the Iris web app or a glass factory's MES. Compatible with all EVOLUTION machines, iBOT is totally autonomous, alerts users in real time and can also be connected to the company's internal information system.
Universal compatibility and future-proof inspection
Although Iris is the pioneer of AI in the inspection realm, we are keen to spread its impact as far as possible. Therefore, we have designed our machines with total interoperability. It is not quite open source, but the next best thing. EVOLUTION NEO machines are compatible with all other inspection machines, with all plant MES systems and with all IS machines suppliers thanks to our use of standard communication protocols. The purpose of our interoperability and openness is to allow a closed loop with production in a smart factory. Thanks to AI-based algorithms, data on every bottle is stored and analysed, enhancing the opportunity to predict systemic defects. Our machines adapt too. We named the line EVOLUTION because their modular structure and AI enabled features evolve through time and never become obsolete. All existing IRIS machines can be upgraded with software and hardware innovations developed by our in-house experts. And they learn as they work, reducing dependence on human intervention. As a result, our customers benefit from cutting edge inspection technology during the whole lifetime of their EVOLUTION machines.
Read the complete article on Glass International