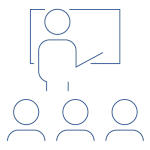 To learn how to use IRIS Inspection Machines or to be train to some specific tasks (new features / maintenance / production change), a team of senior trainers is available to improve your skills and teach you the methods you need.
Contents: Standard or Specific to your requests, the training content will be customized for you to bring both theorical and practical skills.
Locations : On-site, to match your specific usages or in our dedicated 300m² training center in France (Lyon area), to access and use any machines from our portfolio.
Spoken languages: French, English, German, Spanish, Portuguese, Brazilian, Thai and Chinese.