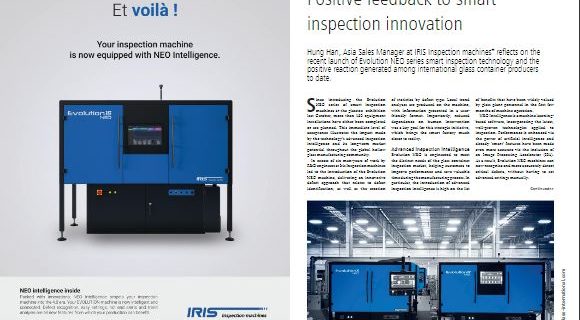 Hung Han, Asia Sales Manager at IRIS Inspection machines* reflects on the recent launch of Evolution NEO series smart inspection technology and the positive reaction generated among international glass container producers to date.
Since introducing the Evolution NEO series of smart inspection machines at glasstec 2018 exhibition last October, more than 150 equipment installations have either been completed or are planned. This impressive and immediate level of acceptance illustrates the impact made by the technology's advanced inspection intelligence and its long-term market potential throughout the global hollow glass manufacturing community.
In excess of six man-years of work by R&D engineers at IRIS Inspection machines led to the introduction of the Evolution NEO machine, delivering an innovative defect approach that relates to defect identification, as well as the creation of statistics by defect type. Local trend analyses are produced on the machine, with information presented in a user-friendly format. Importantly, reduced dependence on human intervention was a key goal for this strategic initiative, which brings the smart factory much closer to reality.
Read more in Glass International April 2019