India's Neutral Glass is one of the oldest pharmaceutical glassmaking plants in the country. In addition to pharma glass, it also
manufacturers glass for the cosmetics sector and has recently invested in a new furnace, known as Furnace K, to make Type I glass. The reason for the investment, states Neutral Glass plant head Avijit Sanyal, is to melt high quality glass while maintaining energy effi cient operations.
The End Port Gas-Fire Furnace has electric boosters for glass homogeneity and a higher pull rate. The furnace was completed on January 28th this year and streamlined for three lines on Feb 20 and a fourth by Feb 28.
In addition to the furnace, the investment also includes a closed working end, forehearths with electrical heating and an IS machine and annealing lehr.
A cleanroom inspection facility was installed in the cold end as well as ware inspection equipment and camera inspection machines for 100% auto inspection of finished articles.
The revamped cold end includes inspection
machinery from Iris Inspection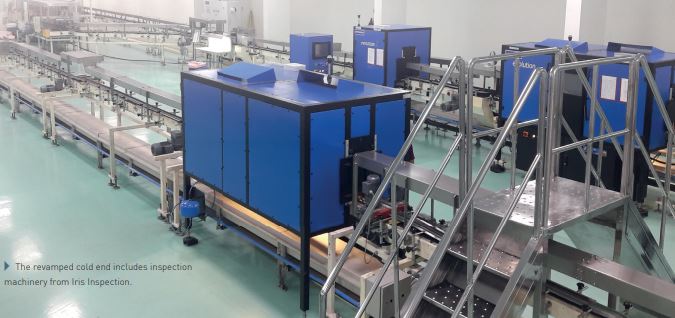 Read the full article : 2018-03-glassinternation-gerreishermer